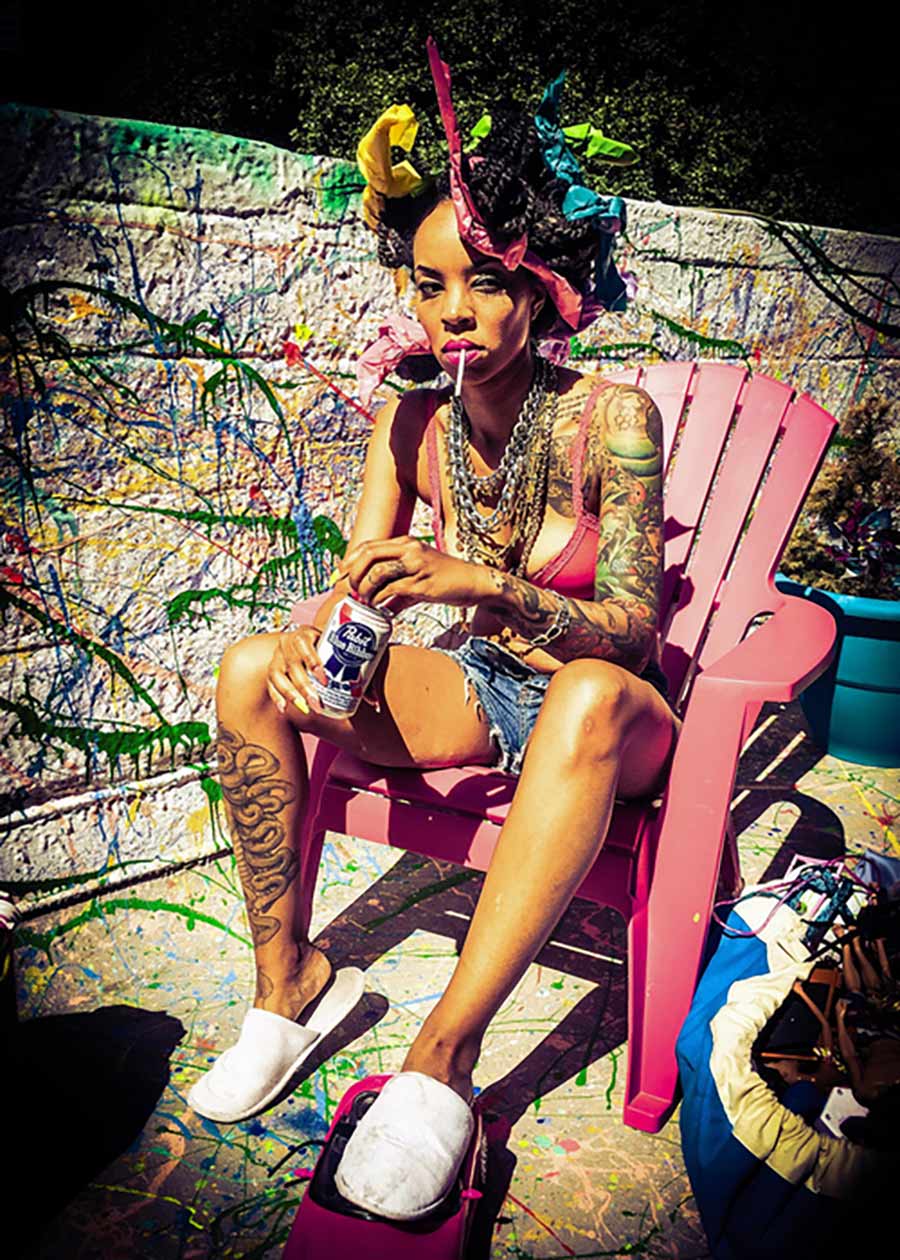 © 2015, Tariqa Waters, 100% Kanekalon, photograph, 7' x 5' x 1", from the exhibition 100% Kanekalon: The Untold Story of the Marginalized Matriarch, Northwest African American Museum June 4 to October 16, 2016, image courtesy of the artist.
Tariqa Waters manages a multi-faceted practice as a visual artist, alternative gallerist, curator and educator. Waters was born in Virginia. She taught herself to be a painter, learning from other artists in her family and a period of time working as a muralist in Sicily. She exhibited her paintings in group exhibitions in the Metro D.C. area and in Atlanta where she lived prior to moving to Seattle in 2012.
In only four years in Seattle, Waters has made an indelible mark on the city's arts community and the Pioneer Square neighborhood. The move to the neighborhood also shifted Waters' practice as her life and work began to merge in unexpected ways. Establishing Martyr Sauce, a "renegade gallery as a platform for generating press and attention for marginalized perspectives" was one of those unanticipated outcomes. Originally located in the stairwell/storefront entry to her live/work loft space, Martyr Sauce is now re-established at 1st and Jackson in what used to be Bud's Jazz Records.
Waters and her husband are both artists. They are choosing to raise two children in the heart of Seattle's oldest neighborhood, despite continuing pressures from gentrification and rapid redevelopment that jeopardize the ability of artists to live and work in the Square. Waters' commitment to providing a creative platform for other artists is evident in First Thursday openings, exhibitions, and performances at Martyr Sauce and in her co-curation of a series of exhibitions at The Paramount Theater. She and co-curator Jonathan Moore, describe the mission of Re:definition to "showcase, within the historic cultural space of The Paramount Theatre, the work of Black Seattle artists. By providing sustained exposure for ideas and perspectives too often marginalized, we hope to challenge preconceptions and facilitate awareness and understanding."
Waters' own artwork has been garnering support and critical acclaim in the region. She created cover art for The Stranger three times and was herself featured on the cover of City Arts Magazine annual 2015 Future List edition. She has been included in group exhibitions at Vermillion, Washington Hall, the Art of the City Festival, Seattle Public Utilities Cultural Perspective, and Out of Sight. Her solo exhibition, 100% Kanekalon: The Untold Story of the Marginalized Matriarch, is on view at the Northwest African American Museum through October 16, 2016. Tariqa works as a teaching artist at the Seattle Art Museum, where she also presented an interactive installation entitled Not Again as part of the Pop Departures and City Dwellers exhibit.